Something that's been a dream of mine for a VERY long time is to get away from the daily grind and just play games for an ENTIRE weekend. Free from distractions. Free from obligations. Free from responsibilities.
I love our two little girls more than anything, but finding time to play games uninterrupted is quite a task when you are a parent of young children. Thank heavens for grandparents who love their little granddaughters enough to keep them for a weekend!
This weekend, I got my wish. In celebration of my birthday and a successful staging of Shrek the Musical by Lara at our local community theatre, we scheduled a weekend getaway at a little place called the
Backwoods Getaway
just outside of Canton, Texas.
We are very fortunate to have relatives who own the cabin. They've got a beautiful two bedroom cabin on a gorgeous plot of land in the woods of East Texas. If you're ever in the need of a quiet time away from the big city, we highly recommend this place.
 (Photo courtesy: backwoodsgetaway.com)
While a weekend away with my best friend would be exciting enough as it is, we also invited some good friends, Jerrod and Krista, who are also married and play board games.
It was an event I had been looking forward to for several weeks, and as the days got closer, I found myself having trouble sleeping due to the excitement.
On Wednesday night I crammed my little blue Kia Soul full of as many board games as we had room for, also keeping in mind that I was going to make a quick stop at
Madness Comics and Games
to spend some birthday money.
We arrived Thursday evening and stayed all the way through Sunday afternoon. Aside from a trip into town for groceries and a few excursions out into the wilderness, we spent most of that time playing games.
I had always wondered how many games I could play in an entire weekend. Now, I have my answer.
Using the very handy
Board Game Stats App
, we logged 28 plays! Not 28 different games, because we played some a couple times. But when you count Thursday evening and Sunday morning as one day, that averages out to almost 10 plays a day!
Not bad! In case you are curious, here's what we played, in order:
RococoDeception: Murder in Hong Kong (3X)The Dragon & FlagonBurgle Bros.Mansions of Madness: Second EditionSplendorFlick 'em UpPotion ExplosionBetrayal At House On The HillTides of MadnessPandemic: Reign of CthulhuMission: Red PlanetEscape from the Aliens in Outer Space (2X)Flash Point: Fire RescueTemporumA La CarteThe Gardens of AlhambraBeyond Baker Street (2X)The Dragon & Flagon (Again)Deception: Murder in Hong Kong (2 More Times)Potion Explosion (Again)Tides of Madness (Again)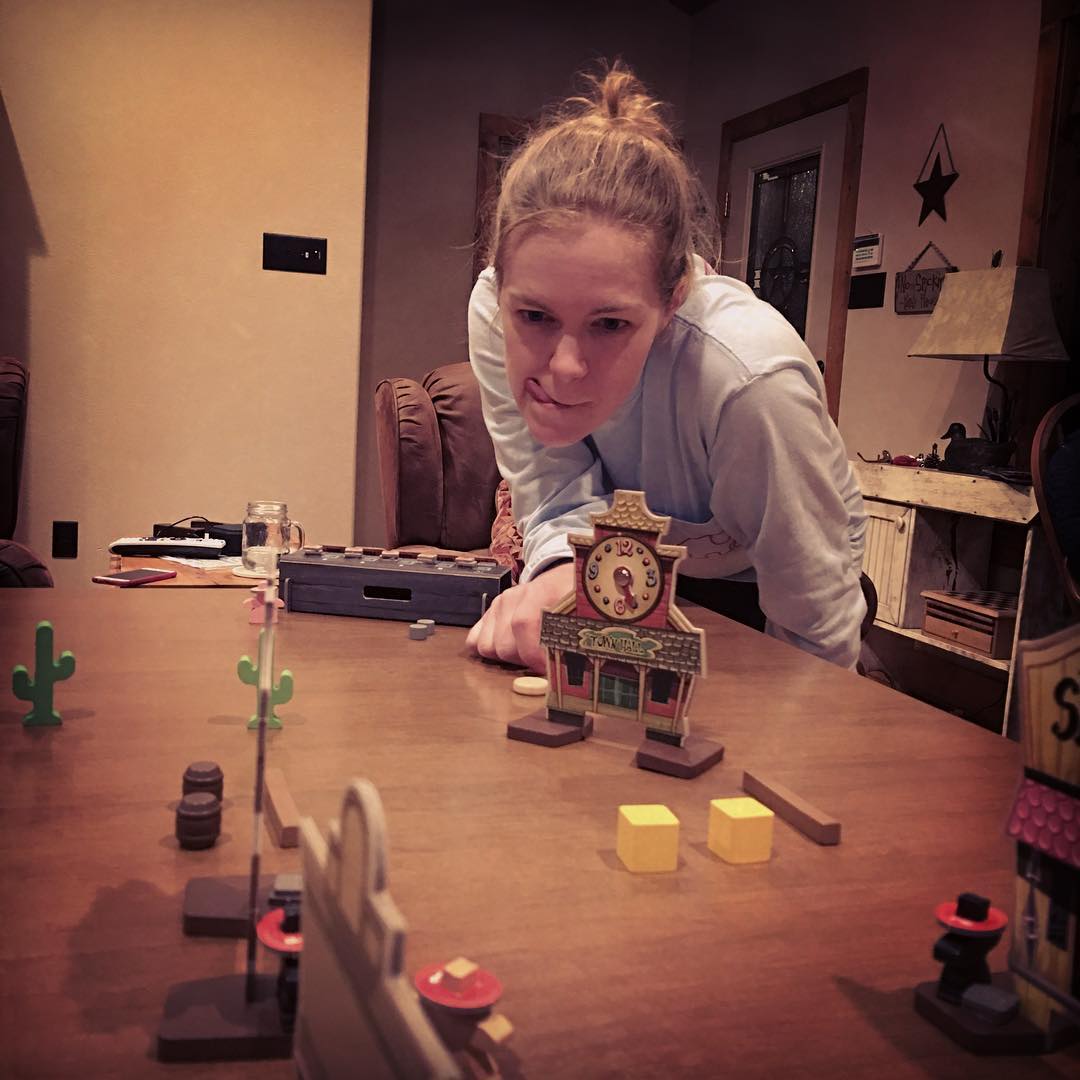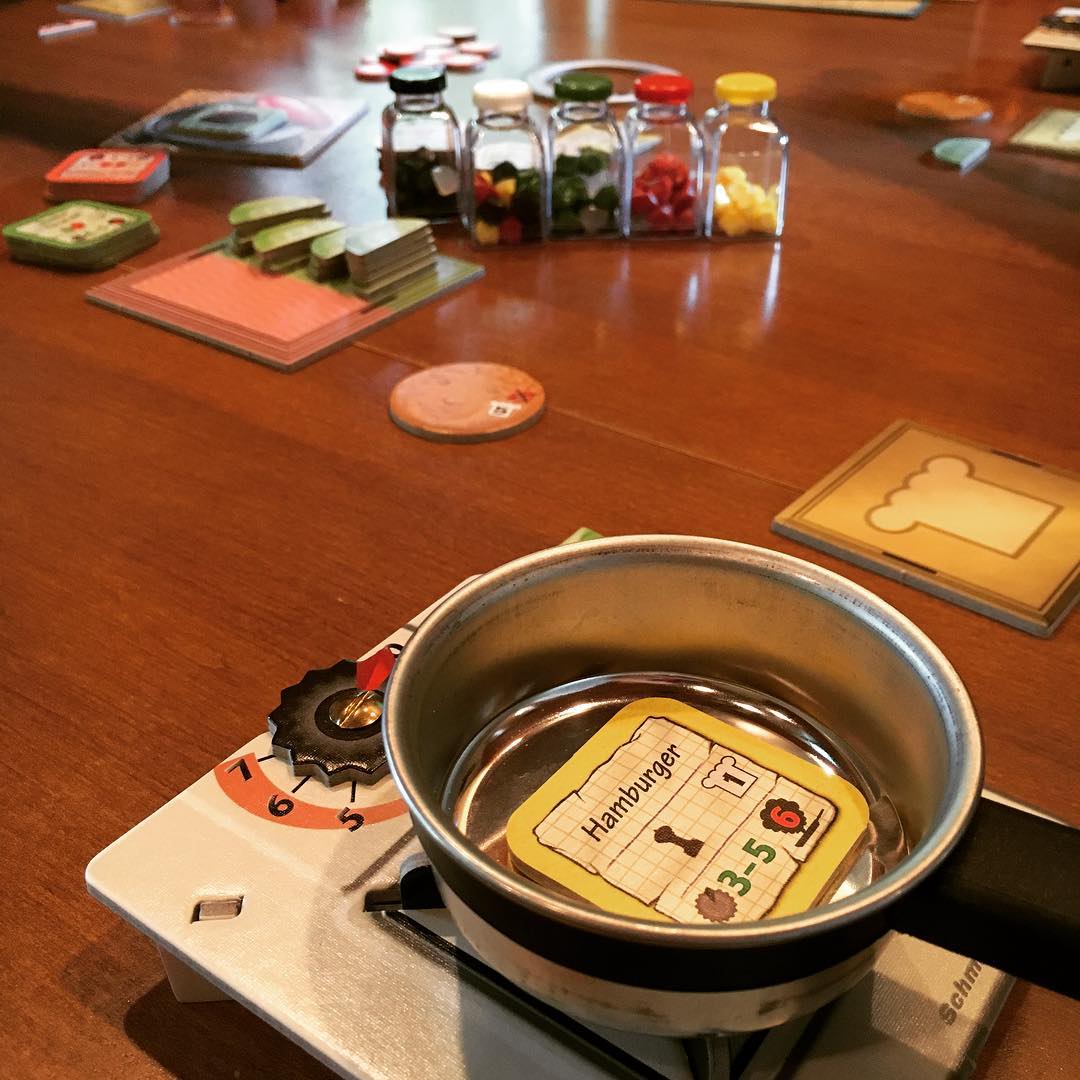 If you did the math, you might be scratching your head and saying, "Hey! Liar! That's only 27!" True, but I wanted to save the 28th game for its own paragraph. Our friend Jerrod has designed his own board game! He brought a prototype and we were honored to be among some of the first to play test it. I can't reveal too many details since it's in the infancy stages, but know this: It's a cooperative game with a hidden betrayer element to it. Is also utilizes a mechanic I've never seen in a game before. Once he tightens some things up, this is going to be a FANTASTIC game. You'll see us post about it here once we are able to, so keep watching for announcements. But I would buy the game in the state it's in now. It was THAT fun.
By the end of the weekend, all four of us were able to name the absolute favorite – 
The Dragon & Flagon
from Stronghold Games! Man this game is fun! Imagine a tavern brawl with characters from a fantasy universe. You can throw chairs at each other, kick barrels of beer, and swing from the rafters, all in attempt to steal reputation points from each other. The person with the highest reputation at the end of the game, wins!
We highly recommend The Dragon & Flagon.
On Sunday it was time to head back to reality. But we'll never forget Super Awesome Gaming Weekend. Hopefully there will be a sequel soon!Special thanks to Debbie Luckey and Marsha Sasser for accommodating us at the Backwoods Getaway. Also, we would not have been able to go without both sets of our parents, so thank you to Mitch and Donna Williams, and Jim and Jan Clapp.